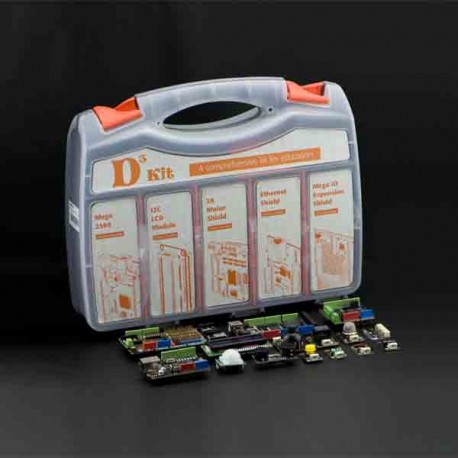 An Arduino learning kit based on DFRduino Mega 2560 (Arduino Mega 2560 compatible) combined with 34 components such as sensor modules, shields, actuators, and optional I / O modules that will facilitate your learning process.
In each module contained in this kit, there are already examples of hardware connections along with examples of source code / coding which will certainly spoil you in learning each sensor / module IO / actuator function.
Everything you need is on the wiki page that has been provided.
It is suitable for you who are just starting to learn Arduino or for you teachers who want to teach Arduino to their students.
DFRduino Mega 2560 x1

Mega IO Expansion Shield V2.3 x1

I2C LCD1602(Arduino Compatible) x1

Relay Module V2 x1

LM35 Analog Linear Temperature Sensor x1

Analog Ambient Light Sensor x1

Digital Vibration Sensor x1

Digital Tilt Sensor x1

Digital Push Button x1

Capacitive Touch Sensor x1

Digital piranha LED light module-White x1

Digital piranha LED light module-RED x1

Digital piranha LED light module-BLUE x1

Digital Buzzer Module x1

Digital magnetic sensor x1

Analog Sound Sensor x1

Analog Rotation Sensor V2 x1

Joystick Module (DFR0061) x1

Flame sensor (DFR0076) x1

DIGITAL IR Transmitter Module(Arduino Compatible) x1

Light Disc with 7 SMD RGB LED x1

IR Kit For Arduino x1

DFRduino Ethernet Shield (Support Mega and Micro SD) x1

Triple Axis Accelerometer MMA7361 x1

URM37 V3.2 Ultrasonic Sensor x1

Digital Infrared motion sensor x1

Adjustable Infrared Sensor Switch x1

Analog Gas Sensor(MQ5) x1

9g micro servo (1.6kg) x1

Micro DC Geared Motor with Back Shaft x2

USB Cable A-B for Arduino x1

2A Motor Shield For Arduino x1

Water Sensor x1

Soil Moisture Sensor x1

LSM303 Breakout Board x1