Dobot Robot Vision Kit is a vision kit for Dobot that uses an industrial HD camera with a 16 mm lens and an auxilary lamp that can adjust its brightness level. The camera in this kit communicates via USB 2.0 and you can calibrate and program it using the supplied Dobot Studio software. This kit also provides an extension rod that allows you to attach the vision kit to the robot arm stand and adjust the height of the camera according to the required distance. With this kit you can teach the Dobot robot arm (for example: Dobot Magician) to recognize, select and sort colored objects, or you can design even more complex industrial applications. Vision kits help you to develop your skills as an AI creator,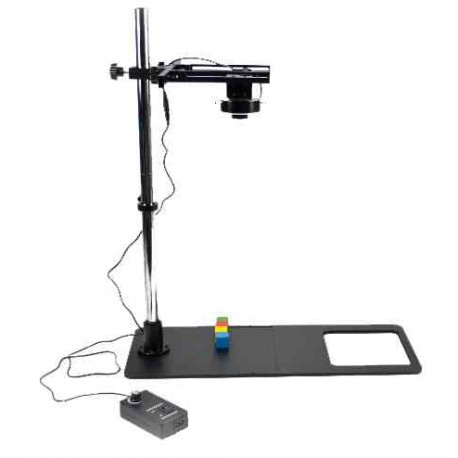 Uses HD color industrial camera

3 million pixels

Pixel Size: 3.2 x 3.2 um

Frame Rate: 12 @ 2048 x 1536

Filter: 650 nm

SNR: 42 dB

Dynamic Range: 61 dB

Exposure Time: 50.8 um-3329 ms

Dimensions: 40 × 45 × 45 mm

Equipped with a USB 2.0 interface

Working Temperature: 0 to 70 ° C

Equipped with auxilarry lights (white)

Wavelength: 455-457.5 nm

Tegangan Output: 12V

Power: 3.5-5W

Operating Distance: 35-110 mm

Diameter Internal: 40 mm

External Diameter: 70 mm

Height: 25 mm

Outside Barrel Lamp Diameter: 39 mm (max)

Focus: 16 mm

Aperture: F1.4-F16C

Focus Point: 0.3m-Inf

Kontrol Aperture: manual

Equipped with manual zoom & aperture

Camera Dimensions: 165 x 124 mm 2/3 "

Back Focus: 13.1 mm
Note: This kit only consists of Vision Kit, Arm robot units are not included in the sales package.