Robotics is a playful hands-on activity which
sparks creative thinking for younger generation.
Let's Learn & Play with All Robots!

OLLO is Science!
Learn scientific principles using OLLO: distance of speed, principle of pulleys,
inertia, elasticity etc.
Experience the principle of acceleration while building a mouse robot
which moves with great power.

Learn the principle of pulleys which produces large power using small force
while building a tower crane.

Build a puppy robot which stands up and sits down using inertia.

Learn about elasticity while building a howitzer which uses
the characteristics of rubber bands.


OLLO is Creativity!
Are you getting bored with the toy blocks which are not moving?
Build the robots of your dream using OLLO.
The rivet of OLLO is a patented product that not only actualizes joints
but also connects parts from both directions.
(Patents are acquired in Republic of Korea, Japan, and the United States.)


OLLO is Variety!
Are you getting tired of building only robots with wheels?
Build robots with 2-legged, 4-legged, and 6-legged robots! Furthermore,
create funny faces and game machines.
More options are available because sensors and motors are added as
the level goes up.

OLLO is Entertainment!
OLLO helps children to develop creativity and scientific minds.
Children who have played with OLLO show surprising power of
concentration and learning intention


OLLO is Logic!
Challenge to programming with RoboPlus, an exclusive robot programming
software!
You can use RoboPlus for intermediate/advanced level robots,
such as Bioloid.

OLLO is Power!
Are you worried that OLLO consumes power too soon?
OLLO can be operated for more than 10 hours in a row.
(Based on Action Kit)


OLLO is Safety!
Dangerous tools and soldering are not necessary. Children are not
exposed to electric circuits
(International Safety Certificates are acquired.)

OLLO is Design
Do you still think robot kits are ugly or shapeless?
Try creating cute characters using OLLO.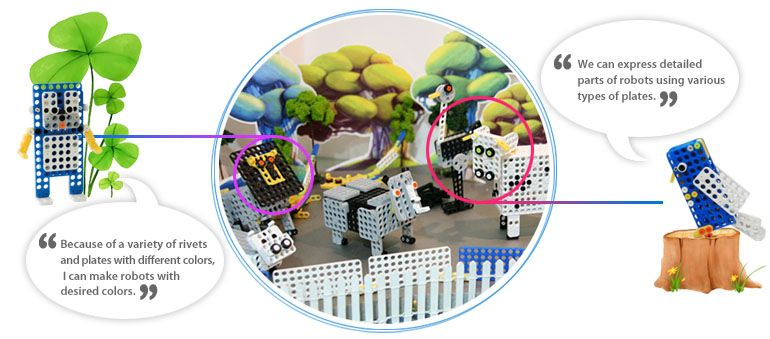 OLLO for You!

Many options are available depending on each level and each usage.